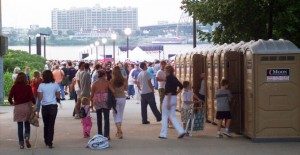 Planning the perfect outdoor event takes plenty of preparation, and you'll need to consider all the details that will make the experience amazing for your guests. From entertainment to food, every aspect of the event needs to be coordinated, but many people don't consider the need for additional restroom facilities. Here are a few things to keep in mind when making arrangements for restrooms.
Existing Facilities May Not Be Up to Your Standards
Public restrooms are notoriously unpredictable. While some venues take excellent care of their facilities, others barely give them a passing thought. You don't want to take a gamble that your outdoor event will be less than successful thanks to shoddy restrooms. A portable restroom trailer setup can ensure that all your guests are comfortable and satisfied with the facilities at your event.
Available Restrooms Must Be Proportionate to the Size of Your Crowd
Even if there are available restrooms that meet your expectations, they may not be plentiful enough to serve the crowd at your event. Strategically placed portable restroom trailers can help accommodate the needs of a large crowd. You can create a bank of restrooms, or you can place some near the dining area and others near the entertainment area so your guests won't have to walk too far to find a restroom.
These Aren't Your Typical Portable Restrooms
For an upscale event, you probably don't want to go with a traditional portable restroom. Restroom trailers are spacious, clean, and comfortable, and they afford your guests with unmatched privacy. These trailers come with hot and cold running water, flushing toilets, climate control, and perhaps most importantly, restroom attendants to keep the space neat and tidy throughout your event. There are a host of options to choose from, including basic trailers and upscale deluxe editions, so you can choose the trailer that fits your needs and budget.
When you are planning an outdoor event, don't leave the restroom situation to chance. Choose portable restroom trailers for a clean, comfortable experience that your event attendees will appreciate. You'll have enough restrooms to meet the needs of a large crowd, and your guests.
https://www.moonportablerestrooms.com/wp-content/uploads/2018/03/Moon-Logo-300x121.png
0
0
Moon Portable Restrooms
https://www.moonportablerestrooms.com/wp-content/uploads/2018/03/Moon-Logo-300x121.png
Moon Portable Restrooms
2017-12-16 16:41:41
2018-05-22 08:29:51
Take Your Outdoor Event to the Next Level with Portable Restroom Trailers