The Comfort Elite III is a luxury restroom trailer available for rent through Moon Portable Restrooms. The Comfort Elite III is air-conditioned and heated with three available restroom cabins – 1 men's cabin that also features a urinal and two women's cabins. All three of the cabins available in the Comfort Elite III restroom trailer are spacious and offer 100% privacy.
The Comfort Elite III  evokes such a sense of elegance and comfort that even your most discriminating guests are sure to leave with a pleasant experience and lasting impression.
Additional Information: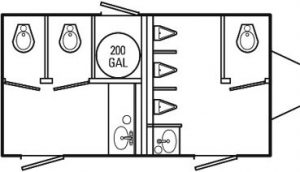 In order to properly give your guests an enjoyable restroom experience outdoors, there are a few requirements that must be met to successfully install a Comfort Elite III at your event. You must have a 12' x 16' outdoor area that is cleared of landscaping and level ground. This area must also have 110 volt / 20 amp dedicated circuit and allow the trailer to be within 50' of a water source.
If you are interested in having a Comfort Elite III restroom trailer at your next outdoor event, contact us at Moon Portable Restrooms. We have customer service representatives that are a phone call away and ready to help you set up a delivery date and time for an affordable price. Call us at 502-776-2199 to get started today!