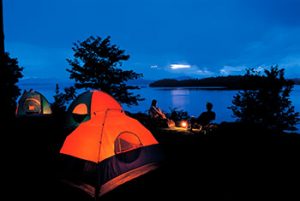 Even for the most avid of campers, "roughing it" isn't exactly fun when it comes to using the restroom. Adding portable restrooms to your campground might just be the thing that sets your business apart from competing campgrounds in the area. Consider some of the many ways your guests will benefit from having access to portable restrooms on your grounds.
Privacy
While some campers are okay with the idea of finding a place in a natural setting, many prefer the privacy that comes with using a modern restroom facility. Portable restrooms are the affordable option to give your customers the amenities they demand.
No Plumbing Required
Adding indoor toilets to your cabins and other buildings requires a significant financial investment in plumbing, sewage, and water services. By installing portable restrooms, you can save money on these types of expensive projects while giving your customers a safe, clean, and secure place to meet their personal needs.
Shelter from the Weather
Portable restrooms provide cover from the rain or harsh weather, so your guests won't need to attend to their personal needs while being exposed to the elements. During inclement weather, campers will love the ability to use the restroom without being rained on in a storm.
Hygiene
Combine your portable toilets with a hand wash station to ensure proper hygiene in your campground. Your guests will appreciate this added touch, especially those campers with small children. Portable toilets that are regularly maintained are also hygienic, so your guests will be able to use the facilities with confidence.
Convenience
Placing portable toilets strategically throughout your campsite can help to keep your grounds clean and provide people with the access to restrooms that they need. Place them near fishing sites, fire pits, cabins, and anywhere else people gather at your site.
Portable restrooms are an essential consideration for any campground. By giving your campers access to clean, private restrooms, you can be sure that your facility will stand out from the competition. Invest in these helpful tools that keep your campgrounds clean and tidy, and give people a reason to do business with you.
https://www.moonportablerestrooms.com/wp-content/uploads/2018/03/Moon-Logo-300x121.png
0
0
Moon Portable Restrooms
https://www.moonportablerestrooms.com/wp-content/uploads/2018/03/Moon-Logo-300x121.png
Moon Portable Restrooms
2017-10-08 16:55:02
2018-03-19 10:10:54
Portable Restrooms for Campgrounds