Located a short trip across the Ohio River from downtown Louisville, New Albany is a flourishing urban community featuring award-winning restaurants, boutique shops, art museums, popular entertainment venues, and beautiful historic homes, while still maintaining a laid-back, small-town charm. New Albany is also one of the top-rated places to live in Indiana and has highly-regarded schools as well. 
If you are a resident of New Albany or the surrounding areas, consider consulting Moon Portable Restrooms for your next party, wedding, family reunion, barbecue, festival, or any type of special event. We are always ready to provide quality restroom trailers that are tailored to fit your needs. Whether you're looking for a basic "porta-potty" or a luxury bathroom trailer, our team has decades of experience serving the Kentuckiana area. 
How Do I Know Which Portable Restroom Is Right For Me?
It can be overwhelming to see all the different types of portable restrooms that Moon offers! We're here to break it down for you, based on your specific needs.
Restrooms Vs. Trailers
Here at Moon, we offer two broad categories of restroom equipment: restrooms and trailers. Restrooms are single serve, "porta-potty" style structures. We offer a standard portable restroom, a flushable portable restroom, and a handicap equipped portable restroom.
The other type of equipment we offer are restroom trailers and shower trailers for large commercial and personal events. These vary in size, features, and level of accessibility. Interested in a handicap accessible trailer? Explore the Executive ADA Restroom trailer! This ADA compliant trailer has three private cabins that feature cabinetry, hardwood flooring, and wainscoting. 
We have the largest selection of trailers in the region–contact us today to learn more about which is best for your purposes.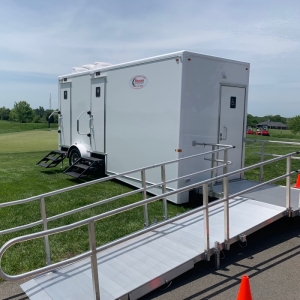 Luxury Restroom Trailers
One of our most popular offerings are luxury restroom trailers, perfect for weddings and sophisticated events. These trailers come equipped with not only sinks, mirrors, and flushing toilets, but even AC and heat! Interested? Check out the luxurious Comfort Elite Platinum Plus, which offers a full size vanity, a wood grain floor, mirrors, cabinetry, subway tile, and even a built-in stereo! It's these little details that make your special event memorable!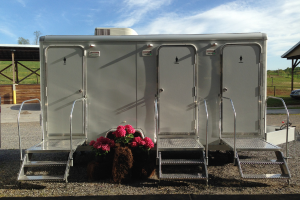 Handwashing Stations
In addition to restrooms and trailers, we offer a two-station portable sink, the Bravo Handwashing Station. This is the perfect accessory for any special event or job site. It even includes dual soap dispensers, dual paper towel dispensers, and deep sinks!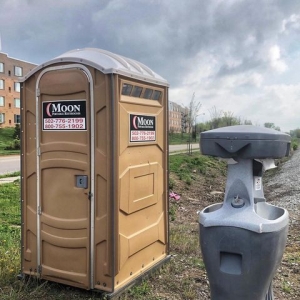 Why Moon?
Moon is committed to being the number one provider of local sanitation in the region. As one of Kentucky's largest full service leasing companies, we can also provide you with storage trailers, over the road semi-trailers, ground level storage containers, office trailers, portable mini storage, dumpsters, warehousing and, of course, luxury restroom trailers and portable restrooms. Plus, we hire the best. Our expert technicians can help at a moment's notice, providing dependable, dedicated service. 
https://www.moonportablerestrooms.com/wp-content/uploads/2021/10/Depositphotos_47978823_L.jpg
1335
2000
Moon Portable Restrooms
https://www.moonportablerestrooms.com/wp-content/uploads/2018/03/Moon-Logo-300x121.png
Moon Portable Restrooms
2021-10-21 14:48:35
2022-08-24 20:01:24
Portable Restroom Rentals in New Albany, Indiana