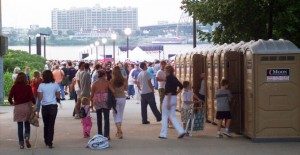 Festival season draws large crowds of people looking for food, music, and fun. While everyone wants to have a great experience, many festival-goers are disappointed with the restroom facilities offered at these events. Too few accommodations, the lack of sinks, and the lack of comfortable restrooms often leave people frustrated and unhappy with the festival experience. Restroom trailers can ease the demand for restrooms and provide a way to keep your patrons happy.
Luxury Portable Restroom Features
Unlike traditional portable toilets, restroom trailers offer all the comforts of a traditional restroom. These trailers come equipped with porcelain toilets with a pedal flushing mechanism, vanities, and a retractable outdoor awning. Each trailer also comes with an on-duty attendant to keep the trailer neat and clean for a better user experience. All trailers feature heat and air conditioning, so your patrons will be comfortable no matter what time of year your festival is held.
Restroom Cleanliness
One of the biggest issues people have with public restrooms is the cleanliness factor. Restroom trailers are the perfect solution, as the on-duty attendant handles all the cleaning concerns throughout the course of the day. With cleaner facilities come happier crowds.
Understanding Customer Needs
Women traditionally take a bit longer in the restroom than men, and restroom trailers are designed to anticipate this need. Each trailer comes with one men's stall and two women's stalls. This will help reduce the line of people waiting to use the facilities, and it will keep your female patrons happy. Women are not always happy about the prospect of using the same portable toilets as men for a variety of reasons. Having separate stalls solves this problem.
Shorter Lines
With a restroom trailer, people will naturally line up to wait in a more orderly fashion. Men will line up on one side, and women will line up on the other. With two women's stalls and one men's stall, this setup will actually move people in and out more quickly. Rent several trailers for larger festivals, and place them strategically throughout the festival grounds so people won't have to walk far to get to a facility.
When you place restroom trailers at your fair or festival, your patrons will appreciate the attention to detail you show in planning your event. You'll be able to ease overcrowding and keep everyone at your event happy. Use a mix of restroom trailers and stand-alone units, or completely outfit your next event with restroom trailers.
https://www.moonportablerestrooms.com/wp-content/uploads/2018/03/Moon-Logo-300x121.png
0
0
Moon Portable Restrooms
https://www.moonportablerestrooms.com/wp-content/uploads/2018/03/Moon-Logo-300x121.png
Moon Portable Restrooms
2017-09-10 16:58:47
2018-03-19 10:18:50
Help Ease Restroom Demand at Your Festival or Fair with Restroom Trailers