When exploring the Kentuckiana region, Clarksville, IN is a can't miss stop for those interested in history, geography, archaeology, and more! Moon Portables provides portable restroom rentals all over Kentucky and Southern Indiana, including Clarksville. Read more about the town below!
About Clarksville, IN
As the oldest American town in the former Northwest Territory, Clarksville was founded in 1783 by George Rogers Clark, first being used as a base of operations during the Revolutionary War before it officially became a town in 1783. The town is settled at the only seasonal rapids on the entire Ohio River and is home to the Colgate clock – one of the largest clocks in the world – as well as the Falls of the Ohio State Park, where you can find the world's largest exposed Devonian-period fossil bed!
Outside of the Falls of Ohio, however, you can also visit the 332-acre Lapping Park that has a variety of sports fields alongside hiking trails and an amphitheater, the 430-acre Origin Park, or the second-largest Bass Pro store in the US. If you're looking for something fun to do, the Clarksville Little Theater is one of the oldest continuously-running community theaters in the US, which is interesting when paired with the fact that Clarksville is also home to the Derby Dinner Playhouse, the only dinner theater in the area.
Clarksville has a claim to fame in the restaurant industry, too! While it's neighboring town of Jeffersonville, IN was home to the original Papa Johns, Clarksville was home to the original Texas Roadhouse.
Clarksville Indiana Portable Restroom Rentals
According to the 2020 census, Clarksville, IN is home to 22,333 people. Friends, neighbors, residents, and families have plenty of things to celebrate and plenty of places to celebrate them – Moon Portable Toilets wants to be your #1 choice for portable restrooms and portable restroom trailers! Whether you're in the park or your backyard with 5 people or 5,000, Moon will deliver the service you need!
How Do I Know Which Portable Restroom Is Right For Me?
It can be overwhelming to see all the different types of portable restrooms that Moon offers! We're here to break it down for you, based on your specific needs.
Restrooms Vs. Trailers
Here at Moon, we offer two broad categories of restroom equipment: restrooms and trailers. Restrooms are single serve, "porta-potty" style structures. We offer a standard portable restroom, a flushable portable restroom, and a handicap equipped portable restroom.
The other type of equipment we offer are restroom trailers and shower trailers for large commercial and personal events. These vary in size, features, and level of accessibility. Interested in a handicap accessible trailer? Explore the Executive ADA Restroom trailer! This ADA compliant trailer has three private cabins that feature cabinetry, hardwood flooring, and wainscoting. 
We have the largest selection of trailers in the region–contact us today to learn more about which is best for your purposes.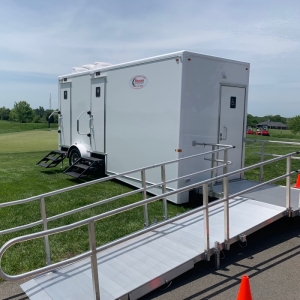 Luxury Restroom Trailers
One of our most popular offerings are luxury restroom trailers, perfect for weddings and sophisticated events. These trailers come equipped with not only sinks, mirrors, and flushing toilets, but even AC and heat! Interested? Check out the luxurious Comfort Elite Platinum Plus, which offers a full size vanity, a wood grain floor, mirrors, cabinetry, subway tile, and even a built-in stereo! It's these little details that make your special event memorable!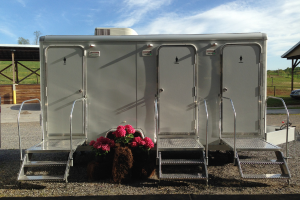 Handwashing Stations
In addition to restrooms and trailers, we offer a two-station portable sink, the Bravo Handwashing Station. This is the perfect accessory for any special event or job site. It even includes dual soap dispensers, dual paper towel dispensers, and deep sinks!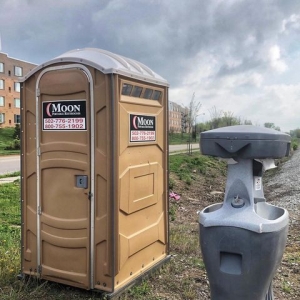 Moon Portable Restrooms has years of experience offering the best portable restrooms, restroom trailers, portable handicap restrooms, and handwashing stations available to customers across Kentucky and Southern Indiana. For more information, give Moon Portable Restrooms a call at 502-776-2199.
https://www.moonportablerestrooms.com/wp-content/uploads/2023/09/Clarksville-Indiana-Portable-Toilet-Rentals.png
533
802
Moon Portable Restrooms
https://www.moonportablerestrooms.com/wp-content/uploads/2018/03/Moon-Logo-300x121.png
Moon Portable Restrooms
2023-10-30 08:30:11
2023-10-31 09:18:11
Portable Restroom Rentals in Clarksville, IN