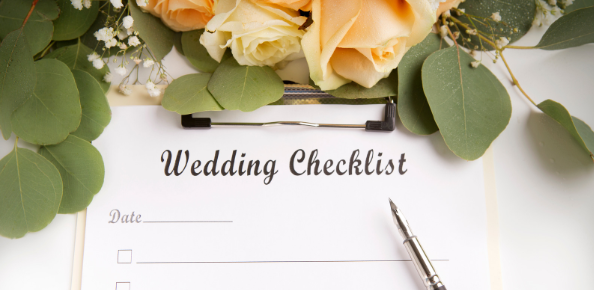 Christmas and the New Year – what a wonderful time of happiness and family and gifts, but also the perfect time for a proposal. With so many deals and discounts, it's no wonder that it's one of the most popular times of the year to get engaged! If you found your forever partner and are now expecting to tie the knot sometime soon, you might be wondering what your wedding timeframe should be.
Well, it's probably all very dependent on what you want for your special day. How in-demand is the venue you have your eye on? What about the caterer and the florist? How far booked out is your photographer?
That might seem like a vague answer, so to make it easier, most wedding experts will tell you that planning a year to 18 months in advance is usually going to be your best bet, but there are always exceptions. Depending on what time time of year you want to get married and how set you are on having specific vendors for your wedding, it could be more like 24 months, or if you're doing it DIY or small-scale, it could be as short as 3-4 months!
Either way, experts also recommend taking the month right after you get engaged to stop, celebrate, and make big decisions with your new fiancé before any other planning begins.
Pre-Planning Decisions
In order for the wedding to go smoothly, both partners should have a good idea of what they envision for their wedding, and then to compromise if need be. Even if one partner has more investment in how the wedding looks or what they want there, both should be involved in this pre-planning period, because this is where big decisions get made.
What season do you want the wedding?
Do you want a long or a short engagement?
What's the wedding budget?
If there's a honeymoon, when will it be taken?
How many people will be invited?
How big will the wedding party be?
The average engagement period is 13-16 months in the US, so don't feel like you have to rush, or like you have to wait that long at all! It's nice to just celebrate love and the engagement in and of itself, so don't feel pressured to begin planning the big ticket items straight away, especially if you already know you want a long engagement, since that gives you a timeframe forgiving of potential accidents that can take time to fix.
What's the Next Step in Planning a Wedding?
Once you've figured out the answers to these questions, it will be much easier to start the heavy-duty planning after. For example, after a season has been chosen, it will be easier then to choose a specific date for your big day, and that timeframe is the most important part of planning, since everything else revolves around it from booking a venue to letting your vendors know when they'll need to provide their services. And since you'll know your budget and your target guest limit, your next step of finding and booking a venue will be made a little easier, since a lot of venues are booked a year in advance, but you've already talked about limits and constraints.
Make sure you know what kind of food you're looking for and if the caterer is able to work within your chosen venue's contract. Sometimes, certain venues will have guidelines or even a list of approved caterers that you'll have to choose from, so if food is an important part of your wedding, plan accordingly! Your other vendors should be booked sooner rather than later, as well, such as:
Florists
Make-up and hair stylists
Photographers
Videographers
DJs
Bar services
Bakers
Portable restroom services
Clean up services
Etc.
You always want to make sure that each service has an opening for your date, especially if you're looking for a specific provider!
Finally, when it comes to 'save the dates' and invitations, a good recommended timeframe to start sending out your paper or digital invitations is 6-8 months from your chosen date or ASAP for 'save the dates' and then 6-8 weeks from the wedding for invitations. And closer to the date might be cutting it close for some guests, so you'll want to make sure you give them plenty of time to RSVP and plan for travel, childcare, pet care, and to purchase any gifts they might want to give. You should also be looking for flights or travel costs for your own honeymoon around the time you send out the 'save the dates' so that you can get a good grasp on how much you'll be paying for travel, lodgings, food, etc. and factor that into how much you'll be willing to pay for the other wedding services.
Contact Moon for Your Portable Restroom Needs
Moon has been Kentucky's source for premium portable restrooms, portable restroom trailers, showers, portable handicap restrooms, and more for decades. We also specialize in other related services including trailer storage and sales, dumpster rentals, refrigerated container rentals and more. If you need a clean, high-quality solution for your restroom needs at your wedding, Moon is in your corner and ready to fit your timeframe! Ask for the Moon and get it!
Moon Portable Restrooms has years of experience offering the best portable restrooms, restroom trailers, portable handicap restrooms, and handwashing stations available to customers across Kentucky and Southern Indiana. For more information, give Moon Portable Restrooms a call at 502-776-2199. 
https://www.moonportablerestrooms.com/wp-content/uploads/2022/11/When-Should-You-Start-Planning-Your-Wedding.png
290
594
Moon Portable Restrooms
https://www.moonportablerestrooms.com/wp-content/uploads/2018/03/Moon-Logo-300x121.png
Moon Portable Restrooms
2023-01-09 09:00:02
2023-09-27 12:52:53
How Long in Advance Should You Plan Your Wedding?